There are a few things that I always say about the Philadelphia Eagles. They are phrases that seem to apply, year after year, despite which new wide receivers we have or who we are playing against. Week One inspires me to resurrect this one: They Never Make it Look Easy.
To start the game, the Carolina Panthers drove for over-seven minutes and scored. The Eagles offense did not fair as well, were forced to punt, and Quintin Demps ran into the Panthers punt returner who had called for a fair catch, acquiring a penalty (and an exclamation from me: "who is that guy? He's fired.")
However, the game turned around after a fantastic interception by Sheldon Brown, ball inches near the ground when we scooped it from the air. This catch led to a David Akers' field goal, which left the birds still behind, 7-3, but motivated. After this shift in momentum, the Eagles defense and special teams units dominated the second quarter. Sacks, fumble recoveries, interceptions and an inspirational DeSean Jackson punt-return-for-a-touchdown (85 years, I believe) left the score at halftime much improved for any Eagles fan. At one point, within five minutes, the Eagles had managed to earn three touchdowns.
Just when it seemed that our offense wasn't going to get a chance to score points, the defense doing a majority of the work of intercepting balls and maintaining superb field position to put McNabb and his squad in position to score, the offense drove down the field honestly. Getting to ball to seasoned players like Brian Westbrook and Brent Celek, to DeSean Jackson who was new last year but looked yesterday as though he had been playing for the franchise for years, and a true rookie, LeSean McCoy, who has begun to prove himself a good choice for the birds' second round draft pick, the offense scored the next points. McNabb ran into the endzone to earn the points himself, doing what fans love to see him do and taking the opportunity to run a few yards when none of his receivers were open. However, he suffered for those six points, crunched underneath a Panthers defender. The Eagles lost him for the rest of the game, perhaps for the next few weeks. The question of his availability in the near future is still uncertain, but it is known that he has a fractured rib.
Kevin Kolb filled in as quartback for the rest of the game. While the defense managed to hold the Panthers score to ten points, the offense suffered under Kolb's sophomoric hesitance in the position. To appear in place of an injured McNabb most likely was not something Kolb expected in the first week of the regular season, definitely not something fans or the rest of the franchise anticipated. With training this week, though, giving Kolb a chance to work closer with his teammates, fans can only hope if he must play as our quarterback Week Two that he looks better than he did during the end of this first game.
The time clock winding down, the Panthers attempted to score on fourth and goal, rather than kicking a field goal for some guaranteed points. Even with the clock drifted down to seconds left, impossible for Carolina to catch up, I wanted nothing more than our defense, whose efficiency through the entire game in thwarting Carolina was thrilling, to succeed in holding the line. Irrational as such a stand could be, the defense shared my desire and held them back. For this, and for their stamina and athletic prowess throughout the game, Jim Johnson would indeed be proud.
Perhaps, as I've heard elsewhere, the Eagles should consider picking up a free agent quarterback, such as Jeff Garcia or A.J. Feeley, who both have worked for Philadelphia in the past and proved to be good matches with the team. Meanwhile, the team should work on preparing Kolb for Week Two and praying for McNabb's wounds to heal. Though McNabb is a strong quarterback even when he isn't giving 100%, the last thing, as a fan, I would like to see is for him to play the hero and play next week's game when perhaps he should sit it out and allow his injury to recover more completely.
38-10 was the final score. I look forward to seeing our defense against New Orleans' offense next week, reports of Donovan's recovery process and also what Andy Reid plans to do with Vick in Week Three once he is reactivated.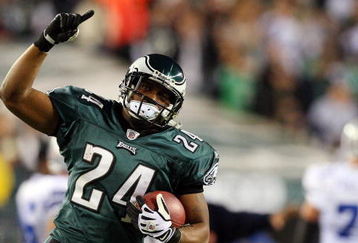 Note: Yesterday was a fine day for Philadelphia sports. Not only did the Eagles defeat the Panthers, but the Phillies won both games of their double header, reinvigorating baseball fans who have seen them not play their best most recently.